Rise of the Triad: Dark War Box Art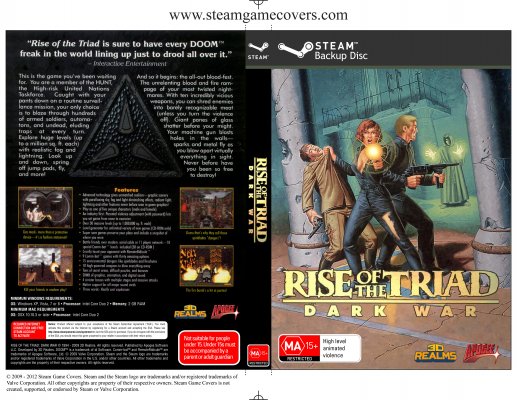 Tweet
DOWNLOAD
STEAM PAGE
SEE MORE
File Information
| | |
| --- | --- |
| Downloads: | 11 |
| Date Posted: | 08-Jan-2018 4:13 AM |
| Created by: | calculon559 |
| Case Type: | DVD |
| Cover Location: | Front/Wrap |
| | |
| --- | --- |
| 1 rating | |
Description
No description available.
Comments (2)
You must be logged in to rate covers and to post comments.
calculon559
- 10-Jan-2018 5:11 AM
@Duke - I'll either do that or the Blake Stone games separately.
Duke
- 09-Jan-2018 7:47 PM
Ah sweet! I don't suppose you can do one for the Apogee Throwback Pack?