Assassin's Creed Origins Box Art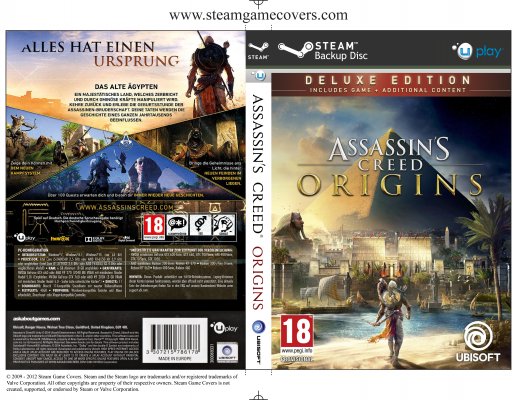 Tweet
DOWNLOAD
STEAM PAGE
SEE MORE
File Information
| | |
| --- | --- |
| Downloads: | 139 |
| Date Posted: | 17-Dec-2017 3:39 AM |
| Created by: | RaymondSWalters |
| Case Type: | DVD |
| Cover Location: | Front/Wrap |
| | |
| --- | --- |
| 2 ratings | |
Description
My first cover. I did the best with what I could find (and it was so little), feel free to improve on this if you are able.
I know the back is a mess but at least the front/side seems ok...
Comments (2)
You must be logged in to rate covers and to post comments.
PieMonster
- 19-Dec-2017 6:03 PM
@Scharr It should say German now.
Scharr
- 18-Dec-2017 9:39 PM
Schön gemacht. Auch schön, dass mal wieder jemand ein deutsches Cover gemacht hat. Das solltest du auch noch eintragen, wenn du was postest ("Language" auf "German", wegen der Suchfunktion).
Very nice. It´s also nice to see a German cover. When posting a cover you should put the "Language" to "German" (for the search fundtion).